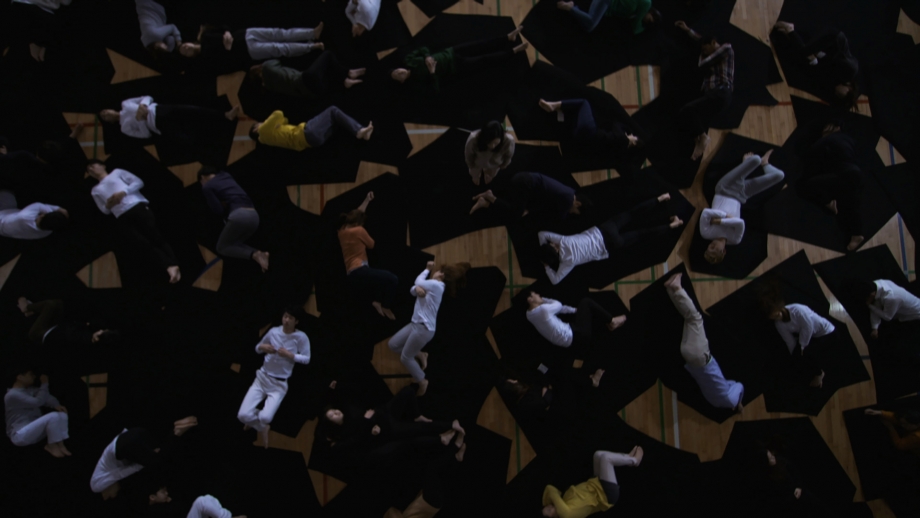 Yang Ah Ham
From a social welfare perspective, gymnasiums are facilities created and used to promote health, but in disaster or crisis situations they also serve as temporary shelters. Gymnasiums and social bodies symbolize the social system and individuals with which we are living. In The Sleep we see people sleeping on black mats haphazardly strewn on a gymnasium floor, other people sitting on chairs alongside them, staring straight ahead and then falling asleep, and people who sit or stand by the people asleep on the floor. Those people sleeping on the floor are the first victims of the disaster, and those sitting beside them and then falling asleep represent various opinions expressed by those regarding the victims from varying positions in society. The performers who eventually protect or control the people sleeping on the floor are a metaphor for social systems such as laws and social regulations. The occasionally uneasy or uncomfortable camera angles, which make one feel these people will never sleep comfortably again, hold the fears and anxieties of individuals facing disaster situations currently unfolding in many societies.
"While working on this project, I thought about how to view one event and restructure it to create an abstract reality. It's about whether I can take one tragic event and make it abstract and then show the reality that can be re-found within that. […] Through this project, I wanted to explore the fears and anxieties of individuals facing crises happening in many societies today. And, I considered the problem of whether it is possible to explore people's emotions, but to express this in an unemotional way. In future, I plan to conduct research on alternative social systems while also continuing with related art projects. As a starting point, through this work, I wanted to reveal this anxious portrait of our current selves." (Yang Ah Ham)
---
As the light in I came for Happiness/Submission turns on and off, the words Happiness and Submission alternately disappear and reappear. This can be interpreted in multiple ways: that one is the opposite of the other; that the two mean the same thing; or that one is the cause of the other. The irony of such different meanings is at once a momentary truth and an imagination or auditory hallucination/illusion. It ultimately reveals the limits of language and the restraints of material strictness. What is notable as much as the opposing relation of Happiness/Submission is the paradox that viewers have arrived here in pursuit of such conflicts. The effort of constantly questioning the paradox of Happiness/Submission seems to finely fill up the gap between the two oppositional words. The different language structures of Korean and English also evoke a new, different and imaginary dimension of language through the crisscrossing arrangement of the two. Neon, the artwork's main medium, contributes to increased imaginations of this kind.

Yang Ah Ham
b. 1968. Lives and works in Seoul and Amsterdam.
Yang Ah Ham studied painting and art theory at the Graduate School of Art, Seoul National University and media art at New York University. She also participated in a residence program at Rijksakademie in Amsterdam from 2006 to 2007. Ham has consistently focused on personal life and its relation to social systems, which is evident in the projects Adjective Life in the Nonsense Factory, Artsonje Center, Seoul, 2010; Transit Life, Kumho Museum of Art, Seoul, 2005; and Dream…in Life, Insa Art Space, Seoul, 2004. She has participated in several group exhibitions such as Discordant Harmony, Artsonje Center, Seoul, 2015; Hiroshima MOCA, Hiroshima, 2015; Art of Communication: Anri Sala, Yang Ah Ham, Philippe Parreno, Jorge Pardo, MMCA Deoksugung, Seoul, 2011; Gwangju Biennale, 2010; Shanghai Biennale, 2008; and Busan Biennale, 2006 among others. She has won the Art of the Year Award, ARKO, 2005 and was shortlisted for Herm?s Foundation Missulsang, 2008. She also co-organized a project initiated by fellow artists in the Netherlands, Turkey and Korea to work under the theme be mobile in immortality, DEPO, Istanbul, 2011; Total Museum of Art, Seoul, 2011. Ham was nominated for Artist of the Year Award in 2013, which has led to the Nonsense Factory, MMCA, Gwacheon, 2013.