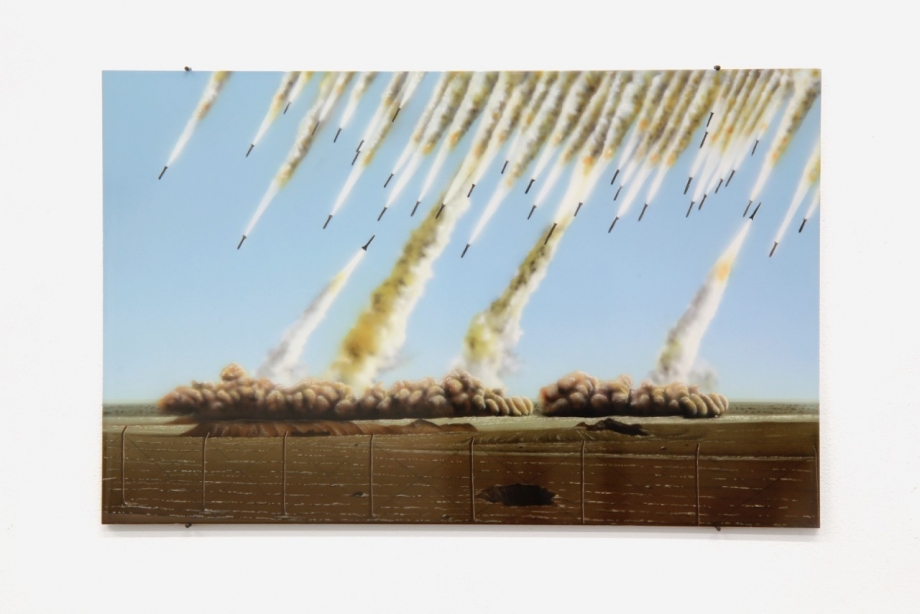 Oliver Laric
Oliver Laric deals with issues of image reproduction and re-interpretation by capturing images floating adrift on the web. In 2008, a press agency of the Iranian Revolutionary Guards distributed all over the world a photograph of four missiles firing and exploding. With just a glimpse of the photograph, anyone could doubt its originality; it looked like a copied image of a ventilating flame or a cloud of dust. It soon did turn out to be a manipulated image and the press immediately removed it from the web. The Iranian Revolutionary Guards again released another photograph that looked as if it were taken in the same place, at the same time, but without the third missile. The second photograph proved to be original; however, this only confirmed that they attempted to hide the partial failure of their missile launching. Later on, netizens of the world parodied and ridiculed this farce by posting images of missiles flying in circles or plummeting to the ground, and one with 40 missiles. In Versions (Missile Variations), Oliver Laric re-presents ten photo works made using press photographs and other parody images, which elicits a self-replicating situation where replicas continue to bring about other replicas.
---
Untitled is a video that collects and juxtaposes animated clips of 'morphing' characters, collating footage from over 100 years of animated films and videos, depicting old men becoming babies, robots turning into cars, snakes transforming into belly dancers, and so forth. Endless transformations among human beings, objects, animals, and machines allure the viewer while crossing the border between past and present, the original and replicas, and human and non-human. Laric's interest in the malleability of an object or image's meaning when ferried between cultures and different time periods is complemented in the video by the illustration of things actually changing form, alluding to the unfixed nature of signification.

Oliver Laric
b. 1981. Lives and works in Berlin.
Oliver Laric's work seeks to parse the productive potential of the copy, the bootleg, and the remix, and examine their role in the formation of both historic and contemporary image cultures. This process is intimately tied to his intuitive, idiosyncratic brand of scholarship, which he presents through an ongoing series of fugue-like expository videos and further elaborates through his appropriated object works, videos, and sculptures, all of which are conceptually layered and often make use of technologically sophisticated methods of fabrication. Straddling the liminal spaces between the past and the present, the authentic and the inauthentic, the original and its subsequent reflections and reconfigurations, Laric's work collapses categories and blurs boundaries in a manner that calls into question their very existence.