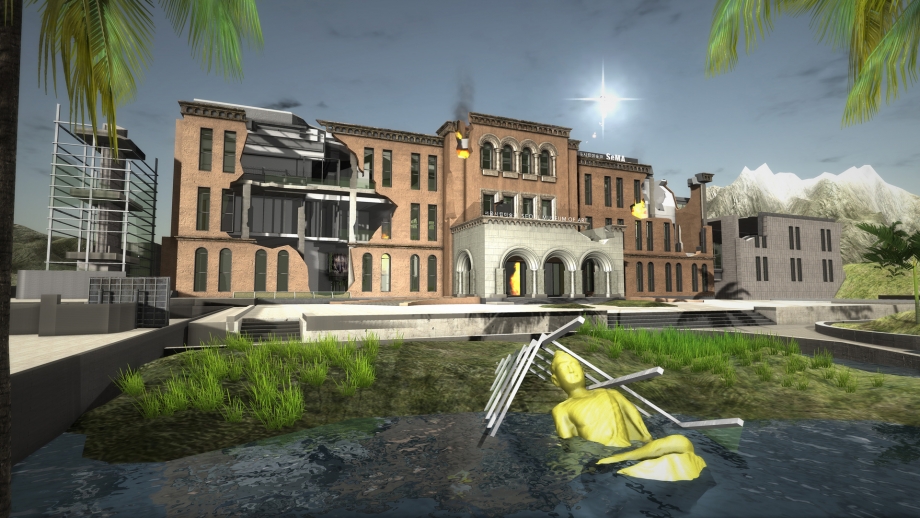 Lawrence Lek
Shiva's Way (Seoul 2072) is a site-specific virtual world that renders the history and architecture of the Seoul Museum of Art Seosomun site as an allegory for the endless cycle of creation and destruction in Buddhist thought. Part science fiction game, part spiritual journey, the simulation is rendered from the point of view of Shiva—Chinese Buddhist nun. Teleported from 372 AD to 2072 AD, Shiva goes on a journey through the future Seosomun complex, the building left in ruins in the aftermath of an unknown war. Wandering in the midst of the rubble, she encounters the reminders of the lost world: broken artworks, torn paintings, burnt advertisements, destroyed drones. Signs of new life appear in unexpected places. The virtual world revolves around the main facade of the Seoul Museum of Art as a link between its multiple timelines: it is the single element that exists as future ruin, contemporary gallery, and historic institution. The landscape and soundscape are based on anecdotes—both fictional and real—of the building and its relation to the 20th century history. Shiva's Way (Seoul 2072) is part of Bonus Levels, Lawrence Lek's ongoing series of utopian virtual worlds based on real places. Each chapter reconfigures the physical world using 3D animation, sound design, and non-linear narratives, creating alternate histories and memories for the viewer/player. After encountering the uncannily familiar virtual world, the reality is received as just one of many possible worlds.
Lawrence Lek
b. 1982. Lives and works in London.
Lawrence Lek creates speculative worlds and site-specific simulations using software, video, installation and performance. Often based on real places, his uncanny digital environments reflect the impact of the virtual on our perception of reality. Contrasts between utopia and ruins, desire and loss, and fantasy and history appear throughout his work to symbolize this exchange. Lek studied at Cooper Union, the Architectural Association, and Trinity College, Cambridge. Recent exhibitions include Tramway, Glasgow International, 2016; KW Institut, Berlin; Cubitt Gallery, London; Wysing Arts Centre, Cambridge; and the Delfina Foundation. He received the Jerwood/FVU Awards, 2016, the Tenderflix/ICA Artist Video Award and the Dazed Emerging Artist Award, 2015.