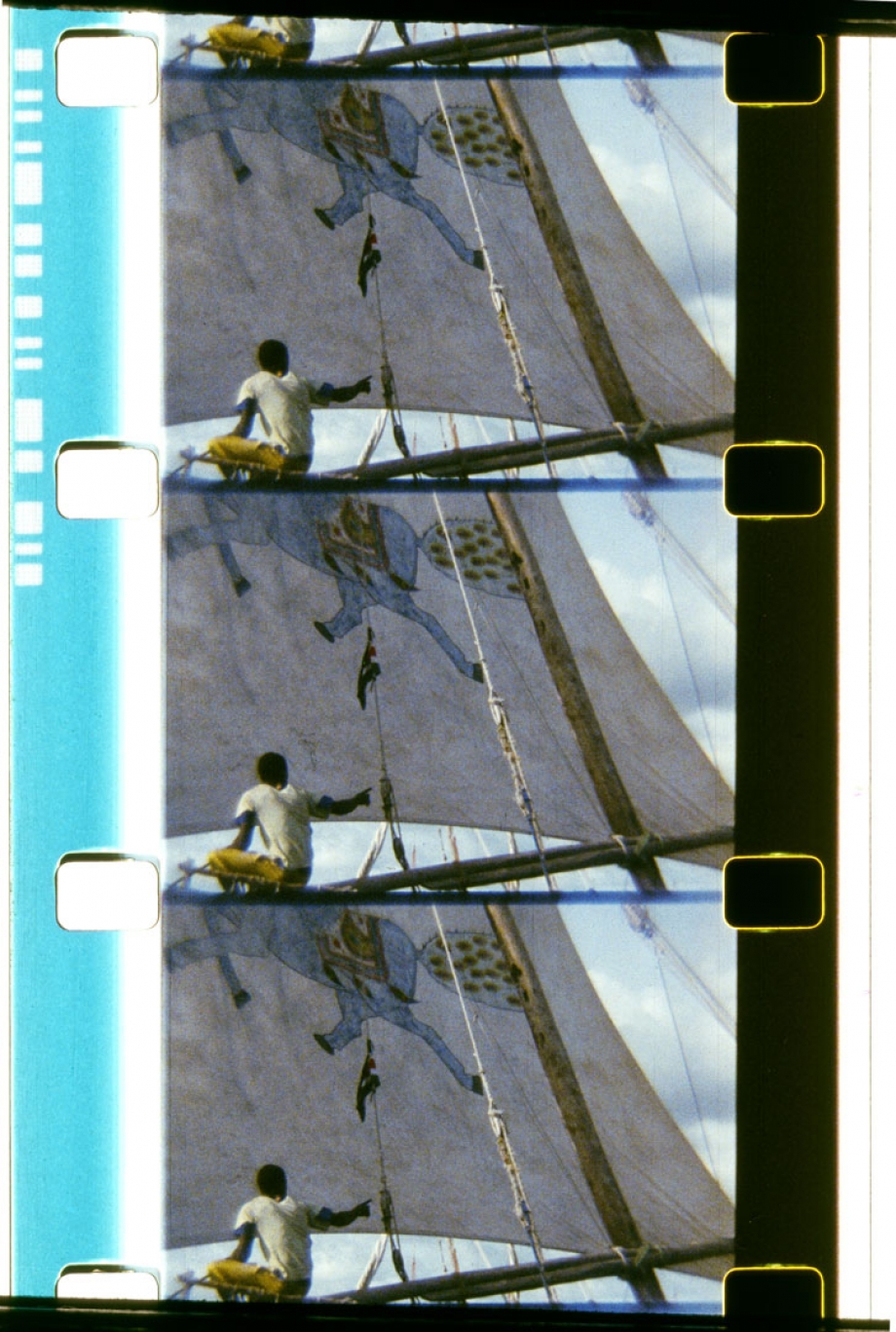 Joa?o Maria Gusma?o + Pedro Paiva
The video works of Joa?o Maria Gusma?o + Pedro Paiva capture objects and moments that have no special meaning but are commonly encountered in daily life and silently play them back. With their sound completely removed, the video images compel the viewer to concentrate more intently on the movement on the screen, and the strange playback speed— generally slow but also with bursts of speed—provides a novel experience between movement and unperceivable movement. The 11 short 16 mm films ranging in length from 1.5 minutes to 8 minutes are distributed among 6 projectors for screening and depict images such as fruits and vegetables being cut up to reveal their cross section; a large crab- shaped billboard with waving legs; a taxidermied lobster surrounded by hanging ornaments and mirrors that evoke a strange feeling; newly fired pottery being lifted out of a hot fire; and an image of scenes being projected one by one through a projector. Visitors encounter objects and moments appearing different from before through the projectors' intentional alterations of distance and proportion.
"Our main conceptual interest concerns the theme of technic and technology. We are interested in capturing descriptive film material that could go from the technical device (or craft) to the ideology of progress and whatever it implies anthropologically and metaphysically. We want to film situations that specially reflect on the paradox of the self-representation of the human in its artifacts and the emergence of the inhuman in the machine." (Joa?o Maria Gusma?o + Pedro Paiva)
Joa?o Maria Gusma?o + Pedro Paiva
Joa?o Maria Gusma?o b. 1979, Pedro Paiva b. 1977. Live and work in Lisbon. The Portuguese artists Joa?o Maria Gusma?o and Pedro Paiva have collaborated since 2001 on creating objects, installations and 16mm?and 35mm short films. The duo describe their overall project as a kind of "recreational metaphysics," a genre that to a certain extent they themselves have re-invented following the Portuguese poet Alberto Caeiro (Fernando Pessoa) on his layered aesthetical modern experiment on materialism. The short films depict staged episodes and sequences?of pseudo-scientific experiments with both poetical and comical consequences. In recent years Gusma?o and Paiva's production has centered on the idea of movement and duration, both within the cinematographic vocabulary, with references to early film pioneers as Eadweard Muybridge and E?tienne-Jules Marey, and through the artists' own practical experiments and conceptual invention.?