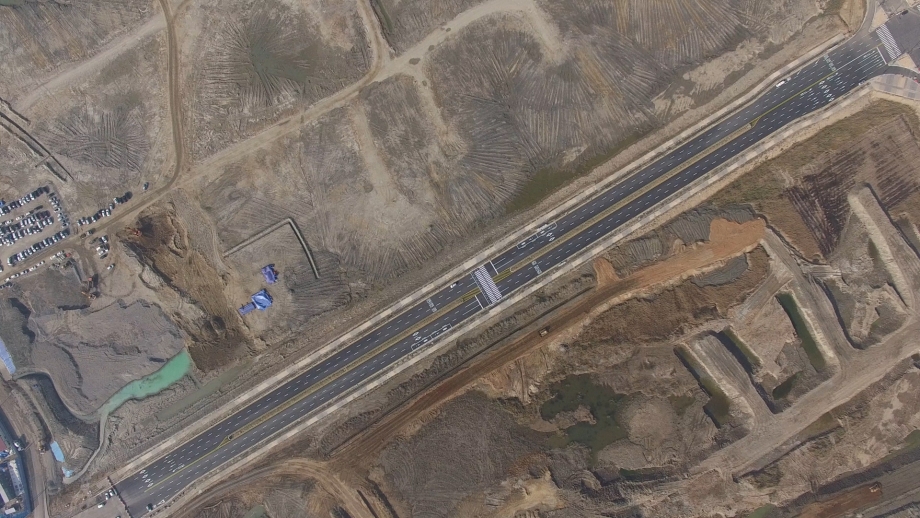 Jang Suk-Joon
Today, people sense and understand places through what is viewed on a flat monitor screen. FLATCITY Project_Flat54 captures the way in which people recognize our landscape through online map service programs (e.g. Google Earth), and attempts to transfer the virtual experience of place into the physical world through drone footage. To find out our current location or other places, we, located between the two dimensions of online-offline, use online map services, get information on places, and constitute our sense of the earth as a real place. Such phenomena raise a fundamental question on human identity/subjectivity, located in between virtual and real worlds: where am I located now? Just like the way we zoom in and out on a computer screen, FLATCITY Project_Flat54, shot by drone, vertically zooms in and out of the real earth. In this process, the real city structure that holds real physical and material movements is followed by fragmented screen frames. The work demonstrates that maps or location tracking systems restructure our daily city space, and ultimately reveals the flattened cityscape rendered by these systems.
Jang Suk-Joon
b. 1981. Lives and works in Seoul.
Jang Suk-Joon entered the visual arts department of Korea National University of Arts in 2000 where she graduated with B.F.A and M.F.A degrees. Jang has held four solo exhibitions beginning with the one at Art Space Hue and has been invited to group exhibitions such as SeMA 2008 at the Seoul Museum of Art. Jang has participated in several residency projects and programs including MMCA Changdong Residency, The Arts Centre of Christchurch, C.O.L art studio in Beijing and UNESCO- Aschberg program. In 2014, she was invited as one of the participating Korean artists at the Kuandu Biennale. Jang was selected as one of the finalists in the first VH Award.