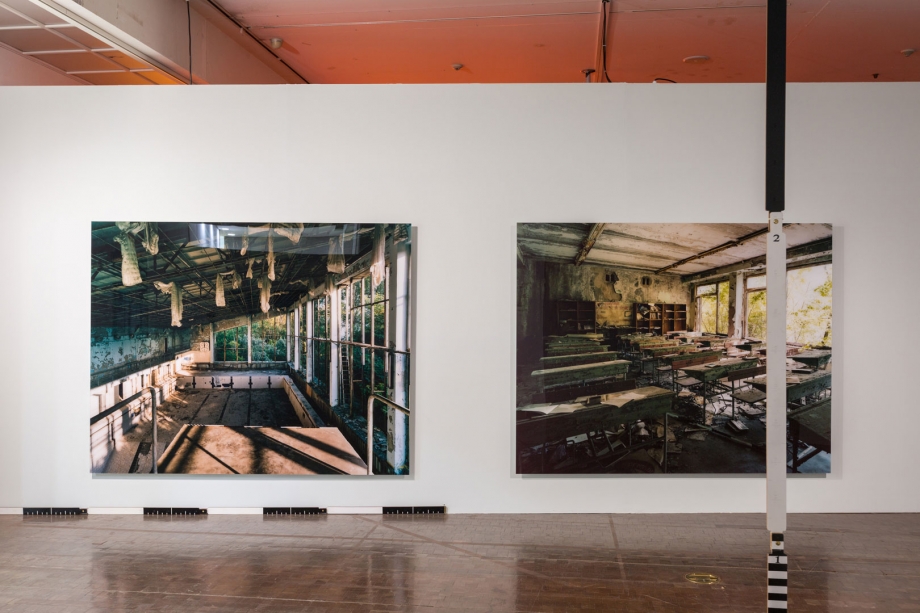 Jane & Louise Wilson
Young British Artists and identical twins Jane and Louise Wilson collaboratively explore sites rich with dark associations— ranging from former Nazi interrogation rooms to failed examples of modernist urban planning—in multi-screen video installations and photography. They are fascinated by altered states, paranoia, and lingering energy in unpeopled spaces.
The Konvas Autovat, The Toxic Camera is a cast of the 35mm Russian Bolex camera, the same model of camera used by the Ukrainian film maker Vladimir Shevchenko who made the seminal film Chernobyl: A Chronicle of Diffcult Weeks. The camera and films that Shevchenko was using were all contaminated by radiation, and the camera is said to have been buried in the outskirts of Kiev.
The island Orford Ness, situated off the UK's Suffolk coast and now owned by the National Trust, was once a former Ministry of Defense H-bomb test facility that was operational during the Cold War. Now on the verge of collapse, these laboratories had once been purpose built for the vibration testing of H-bomb casings. At Orford Ness, the Wilsons installed a series of sculptures, photographs, and sound works; Blind Landing Lab 4, H-Bomb Test Site, Suffolk, U.K. is one of their photo projects in this site.
Atomgrad, Nature Abhors A Vacuum, comprised of large-scale photographs, reveals abandoned interiors facilities in Pripyat, the contaminated Ukrainian city built in the 1970s to house Chernobyl factory workers, which was evacuated shortly in the wake of the 1986 nuclear disaster. The work represents the city that has been visited only by researchers and become a site for "dark tourism" (a tour of sites devastated by natural or manmade disasters) for over the past 25 years.
Measure Obselescere / Imperial Measure is a measure of enormous scale marked in black and white. It occasionally appears hidden in the photograph series Blind Landing Lab and Atomgrad, Nature Abhors A Vacuum. This measure is produced based on the almost obsolete unit of length, the yard (the U.K. standard, equivalent to 0.9144 m or 36 inches), which lets us reflect on the meanings of recording, measuring, describing, analyzing, and memorializing.
Jane & Louise Wilson
b. 1967. Live and work in London.
Jane and Louise Wilson have been working as part of an artist collaboration for over two decades. Graduating in 1989 with a joint degree show in Dundee and Newcastle, they worked in collaboration as postgraduates in Goldsmiths College, 1990?1992. Since 1990, they have gained a national and 147 international reputation as artists working with photography and the moving image, installation in an expanded form of cinema and lens based media. The Wilson sisters have had held exhibitions in the UK and internationally in places such as Kazakhstan, the USA, Canada, Japan and all over Europe. They have also exhibited widely in international group shows, including Carnegie International, Pennsylvania, 1999? 2000; media_city seoul 2000, SeMA, 2000; Istanbul Biennial, 2001; Moving Pictures, Guggenheim Museum Bilbao, 2003; Remind…, Kunsthaus Bregenz, 2003-2004; Out of Time, Museum of Modern Art, New York, 2006- 2007; Suspending Time, Calouste Gulbenkian Foundation, Lisbon; CGAC, Santiago de Compostela, 2010-2011; Sharjah Biennial, 2011; Toxic Camera, Whitworth Art Gallery, Manchester, 2012; Ruin Lust, Tate Britain, London, 2014; and Conflict, Time and Photography, Tate Modern, London, 2014?2015.