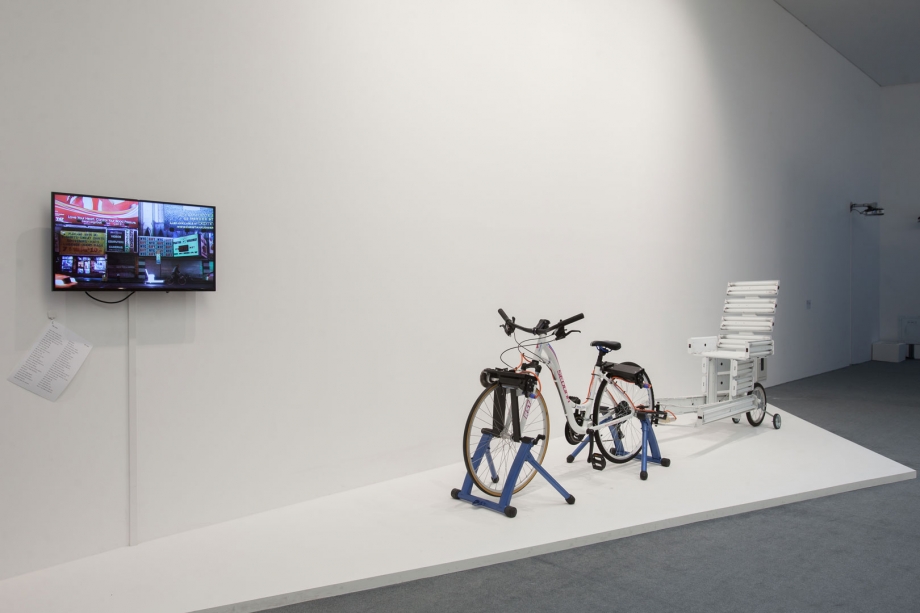 Ivan Navarro
During his childhood in Chile, Iv?n Navarro experienced evening electrical shutdowns and travel restrictions imposed by the authoritarian government. Rather than speaking directly about the control and longing for freedom of that era, the artist speaks indirectly through works that incorporate mostly materials that emit, reflect, or expand light, such as neon, mirrors, glass, and fluorescent lights. Among his works, the neon sculptures based on skyscrapers provide the new experience of peering into a space of infinite depth rather than of looking up at buildings towering over our heads. These sculptures, made of neon, mirror, and glass instead of concrete or iron, are installed towards a wall or floor rather than towards the high sky, causing the viewer to look again at the actual space.
Untitled (Twin Towers) is a work based on the World Trade Center towers destroyed in the 9/11 terrorist attack in New York. In the work, which is built in the form of two squares installed on the floor, a light is inserted between a mirror and a one-way mirror to generate an endless reflection. The works of Iv?n Navarro, which explore light but also contain darkness, and which appear to be infinitely expanding while trapped within a space, hold hope for the future, while at the same time denouncing the dark past and reality.
---
Iv?n Navarro, during his youth, experienced his dictatorial government's control over electricity and movement in public space. Based on such personal memories, he has produced works that focus particularly on lights, using neon, mirrors, glass, and florescent lights. Resistance is a video of someone riding a bicycle— made from a shopping cart and florescent lights—across Times Square in New York City, full of neon billboards. The video accompanies the real bike driven in the film. The "electric chair" mounted to the bicycle frame generates electric energy, which contrasts with the grandiose shining advertising screens in the night city. This video was mainly inspired by the life experiences of immigrants who often deliver goods by bicycle. The hard labor of pedaling and the lights generated by that force represent the daily tensions and uncomfortable situations of the immigrants, while also alluding to the urban structures that have become the only way for them to make a living.

Iv?n Navarro
b. 1972. Lives and works in New York.
Born in Chile in 1972 and now a resident of New York, Iv?n Navarro uses light as his raw material. Turning everyday objects into electric sculptures and transforming the exhibition space by means of visual interplays, his work appropriates the language of minimalism in order to develop understated political and social criticism. Having grown up under the Pinochet Dictatorship, Iv?n Navarro is haunted by questions of power, control and imprisonment, both physical and psychological.