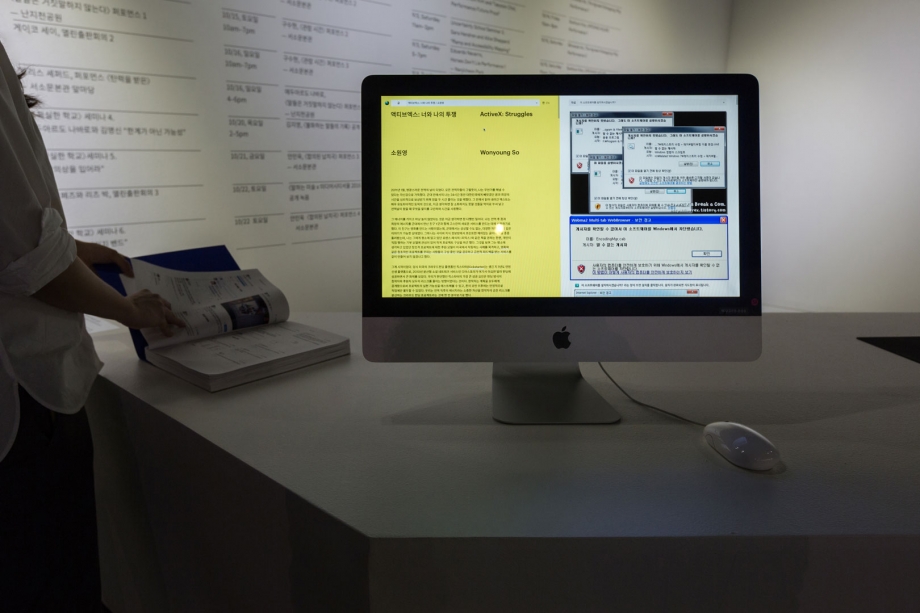 E Roon Kang & Achim Koh & Wonyoung So
Korean Internet Tour Guide is an attempt to examine the history of Korean internet from the points of view of both users and producers as well as insiders and observers. Korean Internet Tour Guide is a collection of moments in which diverse social elements such as technological conditions, users, work style, and political and economic interests have contributed in shaping the country's internet; these moments center around software interfaces that people used to access the internet and participate in its production. Such technological-cultural pursuit begins with two interface software particular to the Korean context, ActiveX and Zeroboard. Multi-layered moments that span across design processes, the producer's intention, user experience, protocol-related decision-making on the protocol, knowledge/opinion production and distribution may provide an overview of what the Korean internet has been; alternately, these moments may reveal a peculiar landscape through the chasm that appears when the intended design does not match real usage. This list is at once a database of loosely structured diverse information and a selective archive—it results in a kind of Tour Guide that holds varied vantage points from A (ActiveX) to Z (Zeroboard).
Korean Internet Tour Guide suggests that we reflect on our fast-changing media environment, while anticipating new methods and dialogues for exploring future directions. Korean Internet Tour Guide consists of a website, booklet, and two related programs. The website includes a list of "tourist attractions" collected from the Korean internet, along with related essays. Selected content from the website is published as a book and displayed at the Biennale.
E Roon Kang & Achim Koh & Wonyoung So
E Roon Kang?
b. 1980. Lives and works in Seoul and New York.
E Roon Kang is based in New York, where he operates Math Practice, an interdisciplinary design and research studio. He is a TED Fellow and was previously a research fellow at SENSEable City Laboratory of MIT. Kang gave talks and lectures at TED Conferences and Cannes Lions International Festival of Creativity among others, and taught classes at universities including Bauhaus- Universit?t Weimar and New York University. He holds an MFA in graphic design from Yale University, and is currently an assistant professor and associate director of the BFA Communication Design program at Parsons School of Design.?
Achim Koh?
b. 1986. Lives and works in Seoul and New York.
Achim Koh studies digital media and the contemporary society. He has worked as a translator, co-founded the music performance video blog recandplay.net, and worked as a researcher at the Making Lab of the 4th Anyang Public Art Project. He graduated Yonsei University with a bachelor's degree in mass communication. Koh is currently in the MA in Liberal Studies program at the Graduate Center, CUNY. He also is in the Interactive Technology and Pedagogy Certificate Program, and is a Graduate Student Researcher at the New Media Lab in the Graduate Center.?
Wonyoung So?
b. 1986. Lives and works in Seoul and Boston.?
Wonyoung So is a data visualization designer that specializes in combining computational analysis and narratives, in particular, network visualization and mapping the invisible. He is also interested in developing creative systems. He has graduated from Kookmin University with a BFA in Visual Communication Design. He cofounded the crowdfunding platform Tumblbug. He is currently a data visualization specialist at SENSEable City Laboratory of MIT.