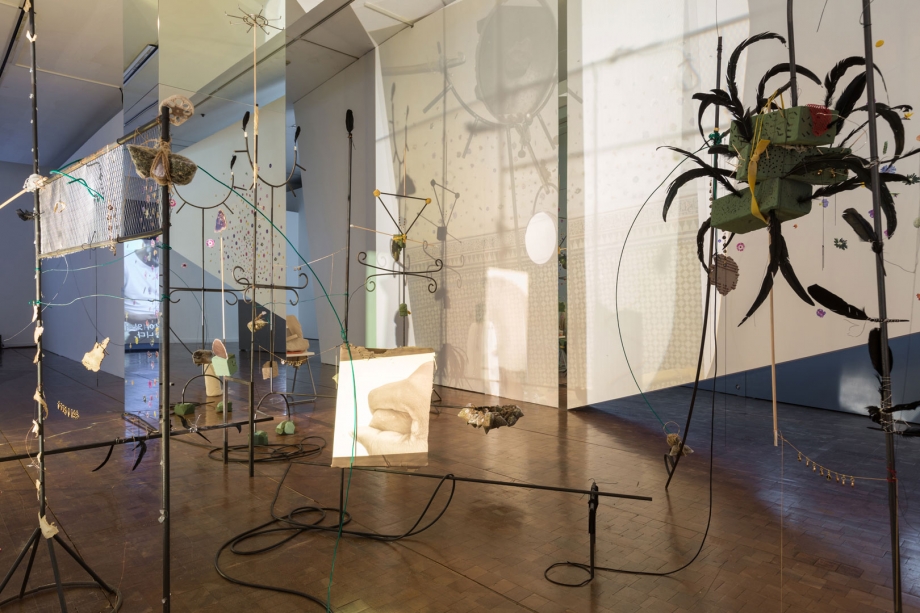 Dineo Seshee Bopape
Dineo Seshee Bopape's installations address topics of gender, sexuality, politics, and race. With this work composed of various materials, Bopape activates her interest in objects and the significance attributed to them. There are also stickers of different African flowers pasted on the surrounding walls, which seem to make a new 3D map of Africa. Bopape's work is inspired by the lyrics of a song that was often sung during the South African struggle against apartheid: Azania—"From Cape to Cairo, Morocco to Madagascar […] Azania, our voice/land/being, we will get it via bazookas." Bopape's installation cross-examines the utopian idea of a united African continent.
Dineo Seshee Bopape
b. 1981. Lives and works in Johannesburg.
Dineo Seshee Bopape was born in 1981 on a Sunday. If she were Ghanaian, her name would be Akosua/Akos for short. In the year of her birth, the Brixton riots took place; two people were injured when a bomb exploded in a Durban shopping center. Bobby Sands dies, MTV is launched, the Boeing 767 makes its first air flight, Umkhonto we Sizwe performs numerous underground assault operations against the apartheid state. There was an earthquake in China that killed maybe 50 people. Hosni Mubarak was elected president of Egypt, there was a coup d'etat in Ghana. Princess Diana of Britain married Charles. Bob Marley dies. Apartheid SA invaded Angola. AIDS is identified/created/named. Salman Rushdie releases Midnight's Children. In the region of her birth: her paternal grandmother died. Julius Malema is born. Millions of people cried. Millions of people laughed! The world's population was apparently at around 4.529 billion.