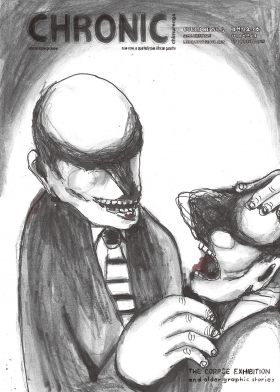 Chimurenga CHRONIC / COULD BE NO. 3: The Corpse Exhibition and Older Graphic Stories
This contribution takes the form of a special edition of Chimurenga's quarterly pan-African gazette, the Chronic, which presents new sci-fi graphic writing from Africa and its diaspora. Chimurenga intended to archive and question the present as well as produce a language through which we can imagine our future. This issue, which is based on the graphic stories of the Africa of the past, attempts to build a new juxtaposition of cartoons and graphic writing.
-Korean and English versions found in one book
-It is also available to order a digital edition from the Chimurenga online store.

---
Guest Editor: Chimurenga
Contributors: Catherine Anyango, Phumle April, Graeme Arendse, Francis Burger, Michael A. Gonzales, Mo Hassan, Carsten H?ller, Nancy Rose Hunt, London Kamwendo, Native Maqari, Moses M?rz, Mac Mcgill, Loyiso Mkize, Thenjiwe Nkosi, Jimmy Rage, Sara Rifky, Hussein Nassir Salih, Nikhil Singh, Breeze Yoko
Chimurenga People: Ntone Edjabe (founder & editor-in-chief); Stacy Hardy, Bongani Kona (senior editors); Graeme Arendse (graphics & layout editor); Lindokuhle Nkosi (online editor); Andrea Meeson, Karen Press (copy editors); Moses Martz, Akin Adesokan (contributing editors); No?lle Koeries (editorial assistant); Vincent Plisson (contributing designer); Cornelia Knoll, Rhoda Isaacs (proofreading); Teresa Ayugi, Pam Dlungwana (sales & distribution); Dudu Lamola, Nala Xaba (administrative assistants); Ahmed Al-Nawas (translation)
COULD BE: Moon Jung Jang, Jeongmin Lee (design); Yumi Kang (series editor); Yeeun Lee (editorial assistant); Jaeeun Gwak (translation)