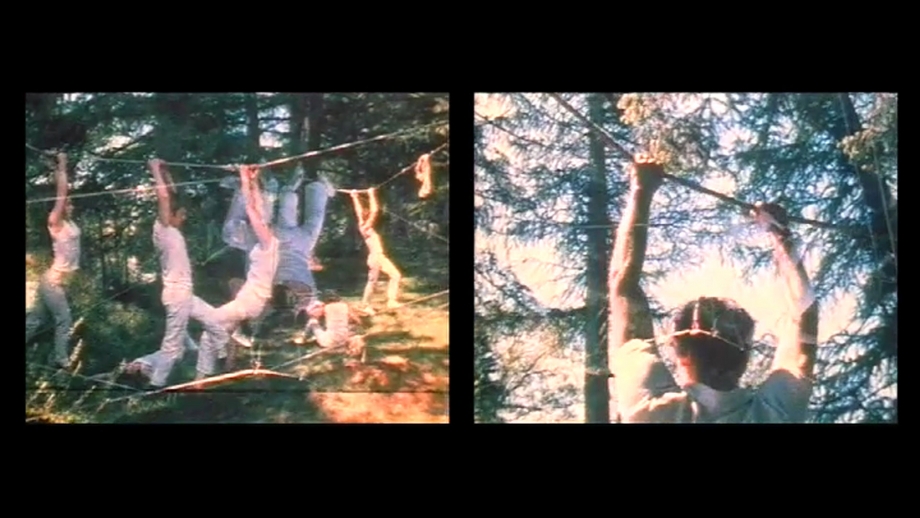 Carolee Schneemann
When Carolee Schneemann attended the 1964 Venice Biennale she expressed her experience about the city's water and sky, light and shadow, solidity and transparency as follows: "This mirroring of water and sky introduced my visual concept of bodies moving within an antigravitational frame." Inspired by these thoughts and images, Schneemann later initiated the performance Water Light / Water Needle which featured performers including dancers, painters, actors, and writers. The 1966 project Water Light / Water Needle (Lake Mahwah, NJ) was a filming of the performance re-presented at Lake Mahwah in New Jersey. Performers in this project would move freely, coming out of the lake, move along the ropes suspended between trees on the lakeside, and hanging on the ropes. They skillfully and rhythmically move within the ropes until encountering one another, where they then maintain physical contact, demonstrating the particular materiality of their individual bodies. Schneemann saw the ropes as "flesh extensions" and encouraged the participants to feel physical connectedness to one another. As with much of Schneemann's work, the body is the surface on which a discussion between "body as subject" and "body as object" takes place.
Carolee Schneemann
b. 1939. Lives and works in New York.
Carolee Schneemann received a B.A. from Bard College and an M.F.A. from the University of Illinois. She holds Honorary Doctor of Fine Arts degrees from the California Institute of the Arts and the Maine College of Art. Schneemann began as a painter during the 1950s before moving to New York with her partner, the composer James Tenney, in 1960. Here, they engaged and collaborated with the growing avant-garde movement and community of artists, writers, musicians and filmmakers, from contemporaries such as Claes Oldenberg, Jim Dine and Robert Whitman to older, more established figures including Stan Brakhage, Maya Deren and Carl Ruggles. Within this experimental scene, Schneemann began to experiment with new media and forms of art-making, from performance to film, and co-founded and choreographed for the groundbreaking Judson Dance Theater. Schneemann once said that "everything that I have developed has to do with extending visual principles off the canvas." Her work, from painting-constructions and assemblages to kinetic multimedia installations, transcends the boundaries of media and discipline.