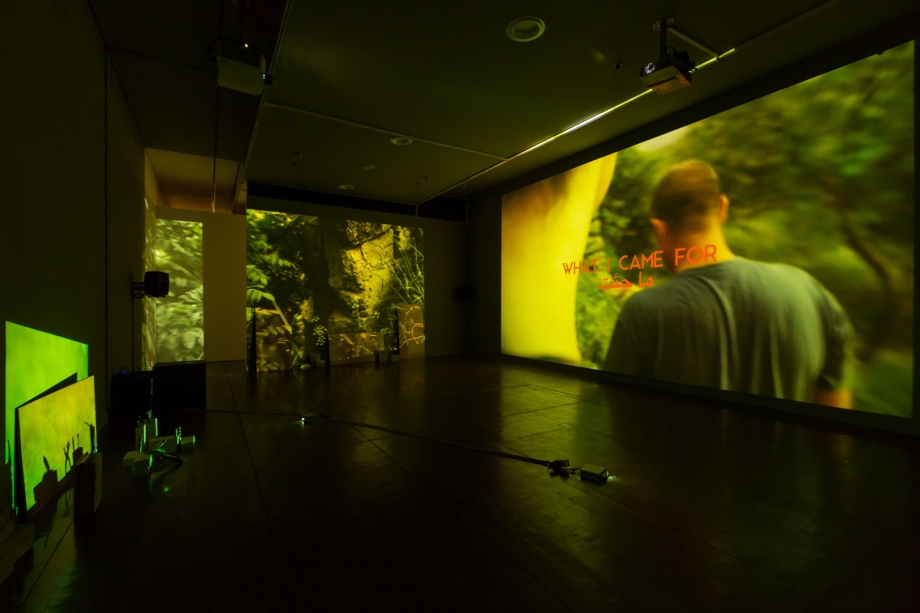 Basel Abbas & Ruanne Abou-Rahme
We are, I am, you are
by cowardice or courage
the ones who find our way
back to this scene
carrying a knife, a camera
a book of myths
in which
our names do not appear
— Adrienne Rich, "Diving into the Wreck", Diving into the Wreck (New York and London: W.W. Norton & Company, Inc., 2013), 24.

And Yet My Mask is Powerful, a 5-channel video and installation initially inspired by Adrienne Rich's poem "Diving into the Wreck", shows a keen eye for the diverse forms of violence around the globe and in the Arab world. The video shows the images that the artist collected from ruinous Palestinian villages juxtaposed with the texts from Rich's poem. In addition to that, the artists have installed a group of objects including a camera, knife and a book of myth, all of which are mentioned in Rich's poetic writings. The enlarged or contracted images of these objects created by shadows cast in the projector's light also make a part of the work. Basel Abbas and Ruanne Abou-Rahme propose an instinctive and sensitive approach to Palestine, viewing it from a different perspective without a fixed idea of the place.
Basel Abbas & Ruanne Abou-Rahme
b. 1983. Live and work in Ramallah and New York.
Basel Abbas and Ruanne Abou-Rahme work together across a range of sound, image, text, installation and performance practices. They probe a contemporary landscape marked by seemingly perpetual crisis and an endless "present," one that is increasingly shaped by a politics of desire and disaster. They have been developing a body of work that questions this suspension of the present and searches for ways in which an altogether different imaginary can emerge. In their projects, they find themselves excavating, activating and inventing incidental narratives, figures, gestures and sites as material for re-imagining the possibilities of the present. Often reflecting on the idea of returns, amnesia and d?j? vu, they reveal the slippages between actuality and projection (fiction, myth, wish) - what is and what could be. Their practice, largely research based, frequently investigates the spatio-temporal resonances of seemingly disparate moments. Overwhelmingly their approach has been one of sampling materials (both existing and self-authored) in the form of sound, image, text and objects, recasting them into altogether new "scripts." The result is a practice that investigates the visceral and material possibilities of sound, image, text and site, taking on the form of multi- media installations and live sound/ image performances.