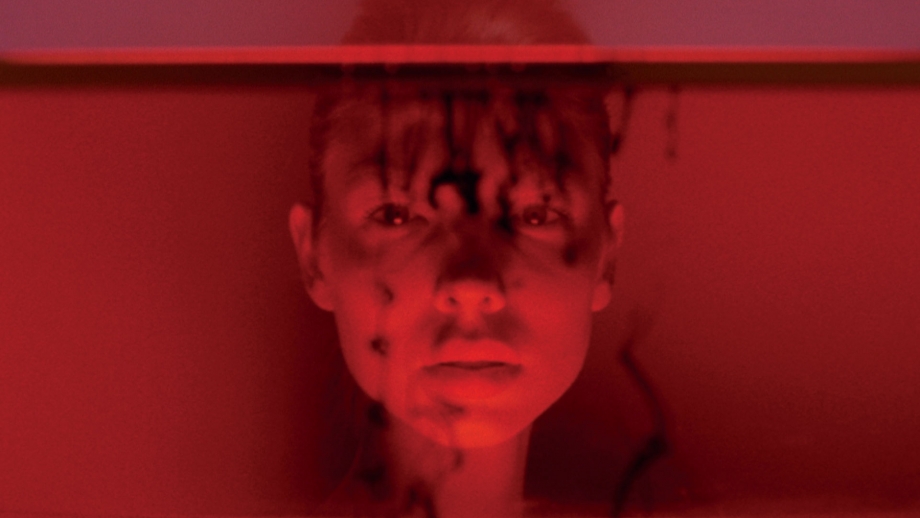 Ursula Mayer
Without using narrative, Gonda shows repetitive images of ancient sculptures that seem to be in a museum or fashion photo shoot, leaving both a deep impression and uneasy tension. The core of this work is made from the characters' verbal lines imposed upon psychedelic moving images and sounds. The film's screenplay was written by Maria Fusco, but through a series of interdisciplinary workshops academics, curators, critics, and writers tried to recompose American writer and philosopher Ayn Rand's 1934 play Ideal to complete the screenplay. This workshop follows rational "individualism" or rational "objectivism," which come through the works of Ayn Rand. Rand's philosophy, which deals with objectivism and ethical selfishness, is grounded on the idea that "[self-interest] does mean that [one] does not subordinate his life to the welfare of others, that he does not sacrifice himself to their needs." This idea is presented through the heroic protagonist in her work, Kay Gonda, who plays that role in Ideal. Gonda features Dutch transgender model Valentijn de Hingh along with five models. Dry yet powerful lines of the screenplay and the protean characters cause a hallucinating sense of being on the border between dreaming and reality, leading the viewers to a world that transcends space-time.
Ursula Mayer
b. 1970. Lives and works in London.
Ursula Mayer uses the grammar of cinematography and montage to excavate how spatial composition, human choreography and narrative construction inform each other. Mayer studied at the Academy of Fine Arts in Vienna and completed her MA at Goldsmiths College in 2005. She has been awarded the renowned Derek Jarman Award in 2014. She has exhibited in institutions such as Moderna Museet, Stockholm and Malm?; Audain Gallery, Vancouver; 21er Haus, Vienna; Palais de Tokyo, Paris; Tramway, Glasgow; Performa 11, New York; Baltic Triennial, CAC, Vilnius, 2012; Athens Biennale, 2009; Institute of Contemporary Arts, London; Whitechapel Gallery, London; Kunstverein Hamburg; and Kunsthalle Basel.