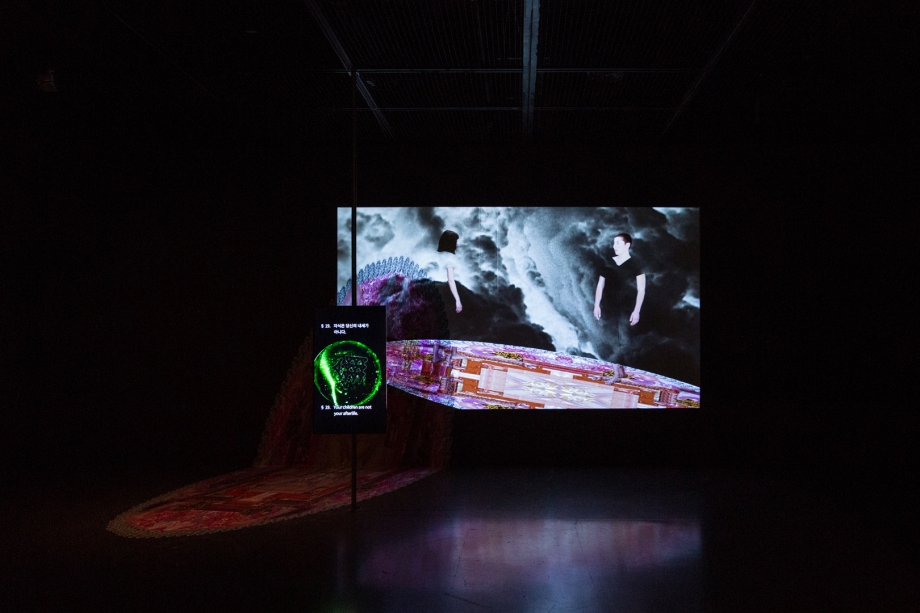 Sylbee Kim
Sylbee Kim's video installation featuring three works, A Sexagesimal Love Letter, A Little Warm Death, and Sisters in the Plutocratic Universe, is a fake praise for the capitalistic supremacies in disguise of religion. The work is conceived as a method to survive the current political, economical and technological conditions, which are becoming increasingly accelerated in unprecedented ways. It aims for a fearless perception of death, to reevaluate the life in our age of carefree, post-capitalistic devastation. The three work elements are produced using archive material as well as copyright-free images from web.
Ancient sexagesimal system was a frame to understand the universe, and it is still contained in our measurement of time. Structured by 59 numbers, A Sexagesimal Love Letter is conceived as a kind of digital codex that reminds of public ads or Internet memes around the formation of body as a sociopolitical universe. Each transition of the 59 clauses is marked by a digital signal with a distorted scale and morph into a monologue or declaration of love. A Little Warm Death is a memento mori put together with images of animal flesh and bodily organs instead of a skull. Placed obliquely between A Sexagesimal Love Letter ('the codex') and Sisters in the Plutocratic Universe ('the real world') while intruding on the latter, the work mimics the iconology of a Buddhist mandala. In Sisters in the Plutocratic Universe two figures appear immersed in a mysterious ritual around life and death in an urban environment. Their bodies become a negative space for different histories as well as ideas of a possible future. They represent all beings in struggle for life under lethal conditions of wars that sustain plutocracy. On the other hand, the unchoreographed moment of a dialogue is inserted and exposes the actual reality that interferes with the overall structure of the installation.
Sylbee Kim
b. 1981. Lives and works in Seoul and Berlin.?
After graduating Korea National University of Arts, Sylbee Kim entered Universit?t der K?nste Berlin where she earned the Meisterschueler degree for experimental media art. Since 2005 she has been travelling between Berlin and Seoul presenting videos, installations, digital prints and performances. While the media she uses are diverse, each work is based on a solid conceptual thinking, which is then fragmented in parts which together form a non-linear narrative. Sylbee Kim offers a critical interpretation of our experiences with the cultural industry and the mass media, including the Internet, with its tendency to store data with neither limit nor discretion. She delves into the issue of identity and politics that underlie it all. Sylbee Kim has held solo exhibitions at Insa Art Space, Space O'NewWall and Project Space SARUBIA. She has also participated in group exhibitions organized by SeMA and MMCA in Seoul, as well as institutions abroad such as Neuer Berliner Kunstverein; Asia Art Archive, Hong Kong; Goethe-Institut, New York; and Real DMZ Project, Cherwon.