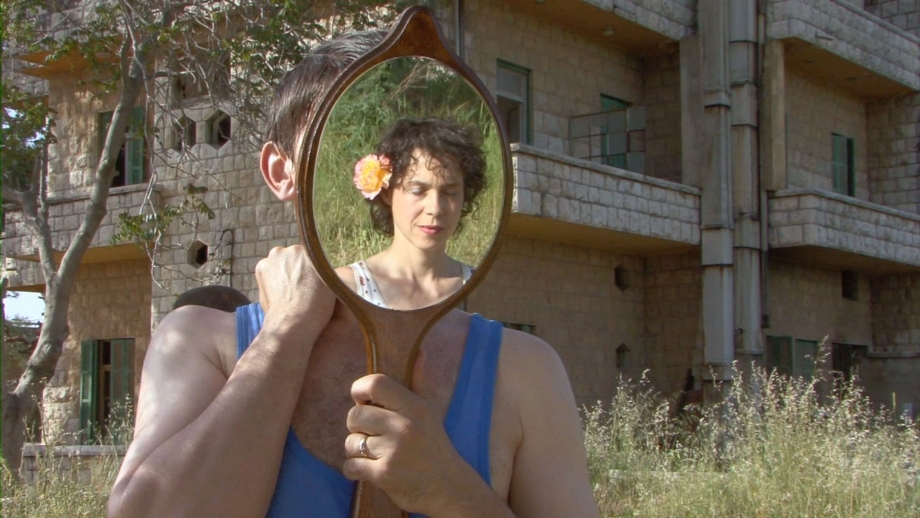 Mounira Al Solh
The Mute Tongue is a video installation that illustrates 19 vignettes of Arabic proverbs used in daily life. A Croatian performer who cannot speak Arabic addresses one proverb per minute, explaining its meaning or a related situation. Since the subtitles appear only after the acting is over, the audience cannot exactly imagine what the proverb means during the performance. Al Solh reveals that people simply use those proverbs without knowing their origins. He also places particular emphasis on the fact that some contain violent, racist, or misogynic connotations.
"In this work, I staged in silent vignettes Arabic proverbs and sayings I use in my daily life, even if I might disapprove with their meaning, and I invited Croatian performer and artist Sini?a Labrovi? who does not speak Arabic to be the protagonist of them all. But the proverb's protagonist might not have a face: it can be anyone and no one at the same time, not to be recognized and consequently not to be alive when 'being in the proverb,' or when 'being in language.' Looking at things in this perspective, how do we perform a language we use daily and we do not control, and how does it affect on our imaginary implosion of our thinking?" (Mounira Al Solh)
Mounira Al Solh
b. 1978. Lives and works in Beirut and Amsterdam. Mounira Al Solh's practice encompasses video, installation, drawing, painting, embroidery, and performance. Since 2008, Al Solh publishes with collaborating editors NOA (Not Only Arabic) magazine, which can only be read by appointment. Her work has been displayed in solo exhibitions at Alt Istanbul; Sfeir-Semler Gallery, Beirut; Kunsthalle Lisbon; and Art in General, New York, and in group shows at the Venice Biennale; the Kunst-Werke Institute for Contemporary Art, Berlin; Home Works, Beirut; The New Museum, New York; Manifesta 8, Murcia; SMBA, Amsterdam; Al Riwaq, Bahrain; and the Istanbul Biennial.