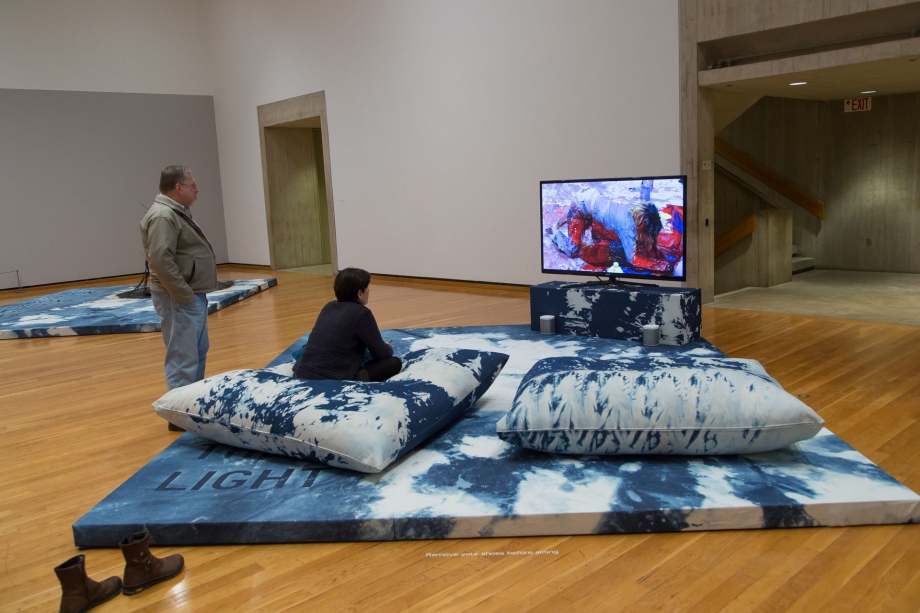 Korakrit Arunanondchai
Korakrit Arunanondchai, in this video, sets up a fictional character or alter ego, a young Thai artist named Chantri, and develops a story on the border of the real and the fictional. Sometimes, Chantri is singing and dancing with Thai youth in denim attire, freely striding down the street. Or he walks along a Thai forest or riverside as in a dream. He also paints on his body, pouring a bucket of paint on his body to do a performance—all of these scenes blend together and become one imagery in the video. The images of beautiful Thai woods, rivers, mystical temples, and ritual scenes juxtaposed with a pile of waste and city streets at the peak of urban change, demonstrate the current position of Thailand where traditional Buddhism and animism mix with pop culture and new technologies. Different narrators speak in Thai, English, and French, talking about their own stories in their own tone of voice in the form of either monologue or dialogue. The mixture of images elicits a bizarre vitality. The multiple pieces of poem-like stories of the artist's own, particularly about his past, present, future, history, hell, heaven, and the universe go on and on without dramatic climax. The film begins and ends with the same scene of the artist with paint poured all over his body, standing by the water. This seems to raise questions on what it means to paint in a Thai context, and what reality and the virtual world mean.
Korakrit Arunanondchai
b. 1986. Lives and works in New York and Bangkok.
In his wide-ranging practice, Korakrit Arunanondchai puts a premium on collaboration?whether it's photographing fellow downtown characters or combining music, video, and performance. Arunanondchai discovered art in high school, when he saw Olafur Eliasson's Sun on a visit to London; soon after he moved to the U.S. to attend Rhode Island School of Design, 2009; Columbia University, New York, 2012, where he studied under Rirkrit Tiravanija; and Skowhegan School of Painting and Sculpture, Maine, 2012. In 2013 he was the recipient of the Rema Hort Mann Foundation Grant.