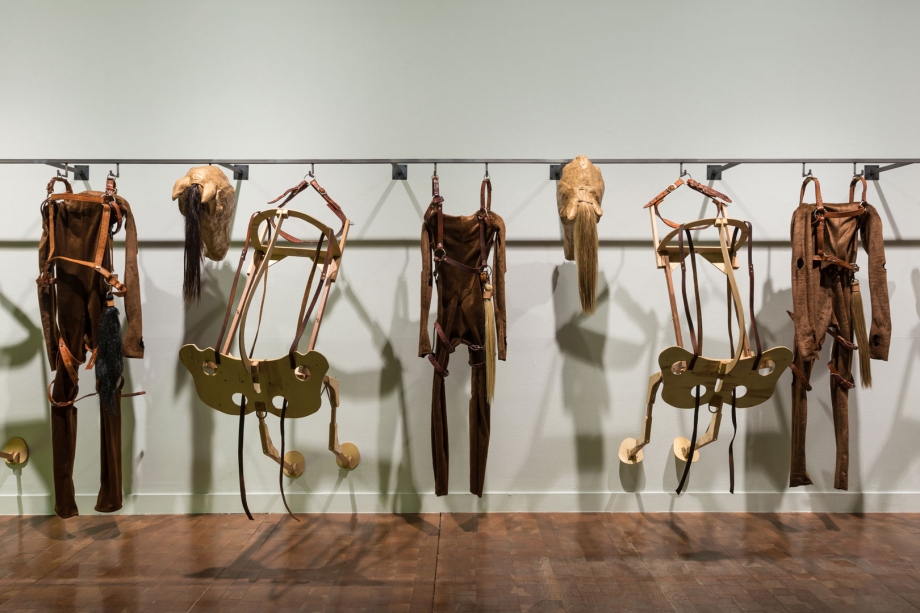 Eduardo Navarro
In 2013, Eduardo Navarro was inspired by a treatment method for autistic children, the one that aims to develop a sense of trust and empathy. He pays attention to human contact with animals and creates horse head masks, attire made of horse leather, and a prosthetic instrument in the form of a horse. He then presents performative practices—with performers put of those equipments—to deliver a mode of thinking through mental images that cancels out verbal language. A two-hour outdoor performance consists of choreographers' extremely slow adventurous gestures, fully representing the bodily sense of language. For Mediacity Seoul 2016, the artist will present this performance two times near Nanji Residency, in collaboration with choreographer Kim Myung Shin along with five other performers. Throughout the event, except for the three performance dates, an installation of the masks and attire used in the performance will be on display in the exhibition. These are less a performance instrument resembling a horse than a kind of human-animal prosthesis.
Eduardo Navarro
b. 1979. Lives and works in Buenos Aires.
Eduardo Navarro's main solo exhibitions include: OCTOPIA, Museo Tamayo, Mexico City, 2016; ?rbita, UTDT, Buenos Aires, 2013; and Estudio Jur?dico Mercosur, Faena Arts Center, Buenos Aires, 2012. His work has appeared in exhibitions including New Museum Triennial: Surround Audience, New York, 2015; Sharjah Biennial: The Past, The Present, The Possible, 2015; We, the outsiders, e-flux, New York, 2014; Cuenca Biennial: Ir para Volver, 2014; Mercosul Biennial: Weather Permitting, Porto Alegre, 2013; S?o Paulo Biennial: There is always a cup of sea to sail in, 2010; and Mercosul Biennial: Screaming and Hearing, Porto Alegre, 2009.
---
Choreographer: Kim Myung shin
Performers: Jang Hongseok, Hyun-sang Jo, Kim Eunkyoung, Song Myoung Gyu, Lee Jung Min, Lee Je sung